NEW DELHI: Intelligence agencies in the country are using technology called "sentiment analysis programme" to monitor the world wide web and various social media platforms for any online propaganda and radicalisation attempts related to the Ayodhya verdict, which was announced by the Supreme Court on Saturday.
The programme is helping police scan for provocative messages and keep tabs on impressionable youths through their online behaviour. By tapping into open source platforms, this programme filters comments and posts on sites and chat rooms to identify hate messages and users.
"This programme can study unfiltered information on what people are really saying about a topic and, in the process, manage threats. For example, it generates an alert if somebody writes words like Ayodhya and revenge in the same post," said an officer.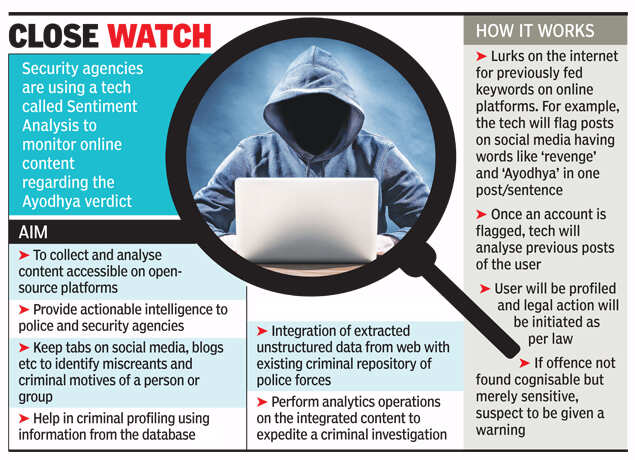 Aggregating and analysing the data is easier if it is in text. However, the challenges grow when pictures, audio and videos are used. Those need to be converted and studied for flagging. Police then try and establish the user's identity. This is a tough task given the use of retweets and bot accounts.
Another related tech, lexical analysis, is being used to identify frequently searched terms on social media or keywords common within a timeframe.
This also helps police interpret information about the accountholder through publicly available data on the internet.
The Lexical analysis helps police monitor social media and identify threats to a great extent during sensitive events. The power of online activity was established after agencies busted budding modules of Islamic State (IS) a few years ago.
A Roorkee-based Islamic State operative, Akhlaq Ur Rehman, who was arrested by the Delhi Police special cell, was tapped by an IS recruiter after he wrote a Facebook post expressing anguish over the Babri Masjid demolition. Since then, the special cell has stepped up scrutiny of internet-enabled platforms.
A separate unit named Counter Intelligence Cell (CIC) was created early this year to snoop on open source platforms. Counter Intelligence Cell not only keeps tab on social media activity, but also infiltrates jihadi groups and other congregations on chat platforms like Telegram and WhatsApp to collect intelligence and monitor their activities.
After the Ayodhya verdict, the alert level in Delhi, Uttar Pradesh and Mumbai is expected to be high for at least the next fortnight. Special cell sources said that the alert has been heightened because Pak-based outfits, who are already trying to strike back on abrogation of Article 370, would try and carry out an attack more vigorously in Delhi or Uttar Pradesh.