After becoming a full-time artist, Nigel Butler encountered a major problem familiar to many in his field. "Sometimes I would sit down for a year or two years with one painting until someone eventually buys something. After that I can celebrate a bit but it is not enough for an artist to survive on," he says.
With buyers not necessarily lining up in droves, Butler, 24, decided that if the public wasn't coming for his art, he would bring it to them, while also getting them to understand and appreciate art that many may dismiss as "a waste of time."
And so work that would have been found on his canvass are now adorning public spaces in the form of murals which he has been painting for free both by himself and as part of collaborations with other artists.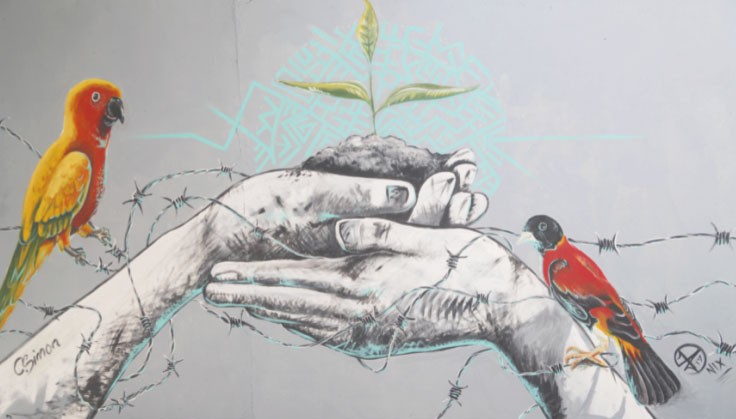 Butler has recently started a public art campaign in which he has been painting murals for free. "I was sitting at home painting for free anyway, so I asked myself, 'Why not?' Why not just go out there and do it so that people can see and enjoy my work?" he said before adding that he wanted recognition for his talents as well.
"…The murals are not so much to get sales but to gain recognition and to make the audience or the wider people of Guyana understand how much work goes into a painting and to appreciate the talents of us artists more," he explained.
Butler, who hails from Surama village, in the North Rupununi, Region Nine, said that the idea of using murals for his public art education project was born from seeing other struggling artists like himself doing the same thing across the world.
His first work was done at the Girls' Home in Mahaica followed by another at the Amerindian Hostel and at the Kosmos Bar and Grill, which was paid for. His most recent work, however, was done at the Courtyard Mall, located on Robb Street between Wellington and Camp streets.
Butler said a week before painting the mural on a wall at the Courtyard, he approached the owner who gave him permission to proceed. He said that he had "no idea" what he was going to paint until the day before and he only knew that he wanted the painting to feature two birds, the Sun Parakeet and the Red Siskin, which are on the brink of extinction. But as the morning when he was scheduled to paint approached, an idea began forming.
He asked his friend, Collin Simon, a self-taught artist, if he was interested in doing the painting with him. Simon agreed and together they created the mural, named "The Good Fight," which attracted widespread attention, Butler said.
Simon, he noted, grew up in Rewa, another village in the North Rupununi, and was only interested in the painting the mural because he was spending some time in Georgetown before heading back into the interior to get back to work that actually pays.
"We [Butler along with Simon's brother, Ransford, who is also an artist] encouraged him and he was interested in painting, so he agreed," Butler said.
According to Butler, the experience of painting with Collin inspired him to continue doing murals but with other interested artists.
He said while working with Collin, they started to build a connection like never before. "That day I left with a better understanding of him," Butler noted before adding that it was at that moment he realised the full power of art.
Noticing how his friend enjoyed
painting the mural, Butler pointed out, made him realise that there are many talented persons in Guyana just like Collin who have to follow other pursuits because their passion and talent cannot contribute to their survival. With that in mind, Butler wants it known that he is open to accommodating anyone who is willing to go on his mural painting adventures with him.
"I am hoping to form a kinda informal group where young talent will feel comfortable to do what they love and encourage them to continue their work, nothing big. I know everybody get their own life to live but as artists we can make a statement and show people what we can do and hope they understand and appreciate it. If they take five minutes to observe us working or see the things we can do in five minutes, maybe they get a better understanding. I want to show people the talent that is out there and what is possible and what we can do," he said.
Butler revealed that he is taking action because Guyana has been silent for too long as it relates to the creative arts. He said he was interested in the National Cultural Policy consultations but didn't hear about it until it was too late. Regardless, he said, he will no sit and wait but will take action. He said the murals are his way of taking action in that regard as well.
The Rupununi-born artist moved to the city with his grandparents at a very young age and after graduating secondary school, he enrolled at the E.R Burrowes School of Arts. He said that while he had always loved art since he was a child, it was not until his teachers at the secondary school he attended encouraged him to continue painting that he actually thought about it as a career path. "They told me that I was very talented so I started appreciating it more and continued to do it," he disclosed.
Still, it was not until his mother came to the city that he became painting "obsessed." According to Butler, his mother fell ill and came to Georgetown for treatment and during her stay she encouraged him to venture into painting. Before her encouragement, he said, he only did drawing. He revealed that his mother also paints but usually does it on table cloths and napkins. "She asked me if I can try doing that so I did a few and it turned out alright and from then the painting obsession started and from then it was pretty much painting and art," a smiling Butler recalled.
Butler disclosed that he loves art because it is expressive and helps him to understand himself. "Sometimes I get a lot of things on my mind and painting relaxes and eases my mind. It takes the stress of the world off my mind. And after I finished I can deal with those issues with a revived sense of thinking. It kinda solves my problems," he noted.
In addition, he said he loves local talent and admires the work of George Thomas, Winslow Craig, Compton Babb and his pal Ransford Simon, among others.
He also revealed that he also seeks to support fellow artists and regularly gives Ransford some of the paid work that he is asked to do. "I know the struggle so I'm just trying to help out and share the love," he said.
Butler has already been asked by another independent organisation to do a mural painting on its fence.